It's already a known fact that Jupiter, Florida is the place for families. With miles of pristine beaches, shopping stores and restaurants, not to mention great schools for children, it's no wonder that Jupiter remains one of the best cities to live in. If you go for a walk, it's a common sight to see people jogging with their dogs by the beach or playing with their pets in the park. Jupiter is a pet-friendly town and it's only natural that people want to bring their pets to restaurants. Luckily, Jupiter is home to many animal-friendly restaurants so your furry friends don't have to stay at home when your family is enjoying breakfast, lunch or dinner! Here are five animal-friendly restaurants that both you and Fido can equally enjoy!
Jumby Bay Island Grill
This Caribbean animal-friendly restaurant serves well prepared and tasty island cuisine in the Downtown Abacoa Town Center. You'll find dogs of all sizes that stand by their owners in the outside seating area. Your waiter will be happy to bring your pet a bowl of cold water when needed and asked for. Within minutes of the Roger Dean Stadium, this restaurant also offers lives music on certain nights, so be sure to check the schedule. Try to get there early before stadium events, as this place tends to get really packed before the games.
Address: 1203 Town Center Dr #101, Jupiter, FL 33458
Phone:(561) 630-2030
Website: jumbybayislandgrill.com
Little Moirs Leftovers
After spending a day at the beach or even working, Little Moirs Leftovers is a must see! Rated by Trip-Advisor as the #2 restaurant in town, this top-notch seafood eatery has a dog-friendly covered patio. Little Moirs is known for their extensive selection of craft beer and local seafood so check it out if you are a fan of those. It can get crowded on weekends, so you should make a reservation if you plan on spending time there.
Address: 451 University Blvd, Jupiter, FL 33458
Phone: (561) 627-6030
Website: www.littlemoirsjupiter.com/leftovers/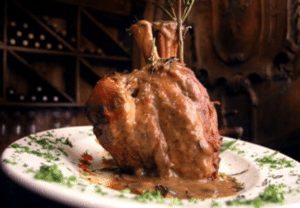 Tabica Grill
This local American food favorite is located off Indiantown Road and is easy to miss out if you don't pay attention, but well worth a visit. Home to great early bird specials and an offbeat menu, Tabica Grill has an animal-friendly patio where you can enjoy the cool air with your furry friend or with your entire family, so be sure to check it out.
Address: 901 W Indiantown Rd #1, Jupiter, FL 33458
Phone:(561) 747-0108
Website: www.tabicagrill.net
The Bistro
If you prefer a more upscale dining experience, look no further than The Bistro. This animal-friendly restaurant was voted the Open Table People's Choice Award Winner in 2016, and the reviews leave no question as to why it has so many guests over. Located on Ocean Boulevard, The Bistro also boasts an outdoor seating area which welcomes dogs of all sizes. If you're planning to spend an evening out with your furry friend, be sure to check it out.
Address: 2133 US-1, Jupiter, FL 33477
Phone:(561) 744-5054
Website: www.thebistrojupiter.com
Costello's Trattoria
Located in the Abacoa Town Center, this Italian restaurant is an easy local favorite. With affordable prices and well-prepared Italian classics, you and your family will spend a quality time over great dishes. Relax at an outdoor table where pets are always welcome! Costello's Trattoria could serve the best pizza in Palm Beach County. If you go there, be sure to try the garlic rolls and tiramisu.
Address: 1209 Main Street #102, Palm Beach, FL 33480
Phone:(561) 776-5448
Website: www.costellosatabacoa.com
There are plenty of animal-friendly restaurants in town that your entire family can enjoy as well! Living in Jupiter has many advantages and being able to sit outside comfortably all year round is one of them. Visit these restaurants in Jupiter and enjoy the sunshine with your furry friends and family.