You don't need a spacesuit to have a one-of-a-kind travel experience in Jupiter, Florida. Located in the northernmost of Palm Beach County, the town welcomes millions of guests and travelers every year. Though you might think that the city is best for couples or those traveling with small children, it offers many exciting things that you can do on your own. Besides the places mentioned on the hit television series "American Horror Story: Freak Show," here are other impressive sites to include in your solo day or trip to Jupiter checklist:

Explore the Surf With Florida Paddleboards
Who says the best surfing in America is on the West Coast? Florida Paddleboards, a local business located on US Highway 1, will surely change your mind right at first glance. The establishment encourages Jupiter travel enthusiasts to rent one of its boards and jump out into the surf.
Some rental shops will rent you equipment but restrict where you can go, and some require that you stick to a set area of land in front of the shop. Florida Paddleboards gives you the complete freedom to go anywhere you want. You can stick close to the shop, or make arrangements for their reps to take you further away and pick you up later. This ensures that someone knows where you are and that you stay safe.
You can rent a board for just $35 a day which comes with all the safety equipment that you need. The shop will even let you pick up a board the night before and drop it off later the next day.
Phone: (561) 328-3208
Website: http://flpaddleboards.com/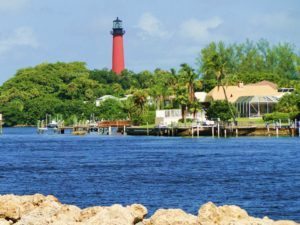 See History on Display at the Jupiter Lighthouse
The Jupiter Lighthouse, officially called the Jupiter Lighthouse and Museum, appears in many Jupiter travel guides. This historic lighthouse dated back to the 19th century and saved an untold number of lives over the years.
It's the type of place that you can easily explore on your own. Instead of following a set schedule or a tour guide, you can wander around the grounds and check out the exhibits on your own time. The first thing you want to see is the lighthouse itself. You can climb to the very top to see the magnificent view of Jupiter.
The area around the lighthouse is home to the Museum & Secret Station J, which boasts videos and exhibits dedicated to the Native Americans who once lived in the area and prominent local citizens. There is also an on-site gift shop that includes products made by Southern artisans and local artists.
Tour the Keeper's Workshop & Deck nearby to get a look at what life was once like for the keepers responsible for operating the lighthouse.
Phone: (561) 747-8380
Website: http://www.jupiterlighthouse.org/
Go for a Dive
The Jupiter Dive Center ranks among the top Jupiter tourism companies in the area. Though this company offers some travel packages more suited for groups, you can also sign up for a scuba diving experience with other solo travelers. Charter packages take you out on the water and let you spend hours diving down to the depths off Palm Beach County. You can even book a package deal that comes with both a scuba diving experience and a hotel room for a low price.
If you sign up on the company's website, you'll get a coupon that lets you dive for free on your birthday. The Jupiter Dive Center is one of the few local businesses that can help you get your scuba certification and one of the few that offers an online diving course. While on your scuba diving adventure, keep your eyes peeled for Gary, one of the largest fish off the coast.
Phone: (561) 745-7807
Website: https://www.jupiterdivecenter.com/
Shop, Dine and Play at Harbourside Place
Located on US Highway 1, Harbourside Place is the best place to stay, dine, shop, and play in Jupiter.
This large center features plenty of shops that sell shoes and clothing, as well as pet supplies and souvenirs. You can also find big name designers like Marc Joseph operating shops here and stores that sell swimwear for those days when you want to lounge on the beach.
Dining options include sit down and fast casual restaurants that offer burgers you can take back to your room and desserts you can eat while wandering around. The Wyndham Grand Jupiter, located on-site, has rooms with private balconies that overlook the water too.
Phone: (561) 935-9533
Website: http://harboursideplace.com/
Watch Baseball Pros Practice and Play
One of the top reasons to visit Jupiter is for the baseball. Jupiter tourism sites pick the spring season as one of the best times to visit because professional baseball teams come down to get ready for the upcoming season. The best place to enjoy all that action and excitement is at Roger Dean Stadium.
The Miami Marlins and St. Louis Cardinals are just two of the teams you can see playing at this stadium. The schedule of events usually starts near the end of February and runs through the middle of March, but you should check the stadium's online schedule to see when your favorite teams play.
Tickets are available for individual game and practice sessions, but you can also purchase a 6+ ticket which lets you select the six sessions that you want to attend. As you kick back with popcorn and hot dogs or a cold drink, you can have fun getting to know the fans around you.
Phone: (561) 775-1818
Website: http://rogerdeanstadium.com/
Creating your Jupiter travel checklist allows you to make the most out of your trip. The beautiful town of Jupiter is home to picture-perfect sceneries, and irresistible attractions and activities you wouldn't want to miss, even if you're traveling by your lonesome.