In recent years we have seen new trends in the food culture in Jupiter. A great many restaurants have popped up at different locations, providing people with a wide range of tasty selections. We have compiled a list of seven such tasty treats for you.
The Parisian Restaurant and Wine Bar
A drive down Highway 1 will take you to France right here in Jupiter. With its classic interior to the French-style cuisine, a visit to the brand new Parisian restaurant is just like visiting Paris itself.
You will find some of the best elements of the French-cuisine here including Dover sole baked with lemon Blanc sauce, marinated salmon, Foie gras terrine, Escargot, crêpes and macrons and a rich collection of French champagne.
Contact: (561) 360-2224
 
Deep Blu Seafood Grille
Foodies in general and seafood lovers in particular can now cheer as Deep Blu Seafood Grille has opened up at Wyndham Grand. You have the luxury to either dine at the beautiful poolside here or have it inside their lavishly decorated lounge.
The seafood menu is creatively assorted; crispy shrimps fried in buttermilk and served with Creole remoulade sauce, finest fish stew: Cioppino, Tender mussels brewed in beer broth are just to name a few.
Contact: (561) 273-6600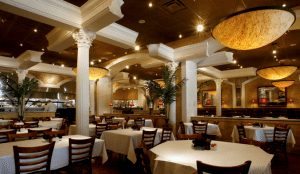 Tommy Bahama
The news of its opening at Soundings Avenue in Jupiter has spread like wild fire. You can savor their mouth-watering dishes at elegantly designed outdoor terrace or in the cozy environment of their beach-house style indoor settings.
The huge selection of gastronomical delights includes crispy crusted snapper, BBQ ribs, coffee-coated steaks served with blackberry sauce and the list goes on. Their bar menu is no less exciting; martinis, rum, lime coolers are just to name a few.
Contact: (561) 401-6631
Per Te
Situated at Indiantown road, this plush restaurant will stun your taste buds with its best dishes of Italian-Floridian fusion.
Try their juicy Seminole beef tenderloin, arugula with lemon dressing, roasted chicken, steaks seared in beef fat, braised pork belly, or chicken dumplings and complete your meal with a glass of their manhattans, Bourbon whiskey, or sparkling wine.
Contact: (561) 972-4905
Nitrogen Bar, Grill and Sushi
A perfect blend of Asian meets European cuisine.
Their menu is packed with mouth-watering dishes including Tuna Tataki, roasted eel, smoked scallops, pizza with wasabi sour cream, monkfish liver, grilled oyster, grilled pineapple and soy mayo roll, and salmon and tuna roll with ponzu sauce. Desserts including chocolate mousse, sorbet, cheesecakes, and crème brulee are perfect to give your meal a sweet ending.
Contact: (561) 972-2944
El Burro Loco Cantina
The classic Mexican food sensation has laid out its delicious foundation at Indiantown Road, right here in Jupiter. The relaxing ambience and excellent service are just delicious extensions to its already superb cuisine.
Be prepared to be swept away by their stuffed tortillas, saucy tacos, steak cutlets served in freshly baked bread, or a glass of one of their warm finish beer in 12 different varieties.
Contact: (561) 320-0040
Calaveras Cantina
People come to Dockside Circle to indulge themselves with the sweet and savory food creations at Calaveras Cantina.
Expect a well-prepared menu containing best tastes from different cuisines. Treat your taste-buds to their tuna tacos, costillas, enchiladas smothered in ranchero sauce, braised beef served with cotija cheese and mushrooms or fried crunchy veggies. The eye-catching dessert trolley is a treat in itself; churros with chocolate dip, avocado nachos served with ice-cream, cinnamon candied oceans, and toasted ice-cream are some of their many delights.
Contact: (561) 320-9661