A weekend getaway doesn't have to be expensive and tiring. You don't need to go through the hassle of booking a flight and traveling long hours to unwind after an exhausting work week. Jupiter is home to a lot of beautiful beaches, sprawling parks, family-friendly restaurants, champion-style golf courses, and exciting scuba diving sites. You'll never run out of things to do or places to visit. Here are suggested destinations that promise a delightful experience without leaving town.
Carlin Park
This expansive oceanfront park has roughly 3,000 feet of beaches with lifeguards. It includes a broad range of amenities, such as:
Playgrounds
tennis courts
bocce courts
picnic pavilions
a softball field
a beach volleyball court
Also found within the premise is the Seabreeze Amphitheater that hosts the annual Palm Beach Shakespeare Festival and the Safe Harbor Celebrity Dog Wash.
Address: 400 Florida A1A, Jupiter, FL 33477
Phone: (561) 624-0065
Comfort Suites Intercoastal Marina
If your idea of a restful and relaxing weekend is an overnight stay in a hotel, Comfort Suites Intercoastal Marina is the perfect spot for you.  Start your day with a complimentary breakfast buffet which includes a variety of delicious fares.
The hotel is 1.1 miles away from the Busch Wildlife Sanctuary which is ideal if you have kids in tow. Otherwise, you can stay at the hotel and enjoy the outdoor swimming pool and fitness center.
Address: 6752 W Indiantown Rd, Jupiter, FL 33458, USA
Phone: (561) 745-7997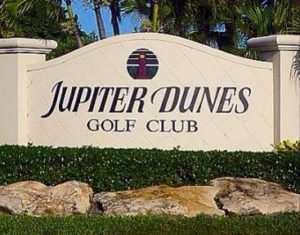 Jupiter Dunes Golf Club
The Jupiter Dunes Golf Course is an 18-hole course with natural and man-made hazards. The course is maintained to private club standards, but anyone can play for a reasonable price. It's a good place to work on your game or to try out golfing for the first time.
Address: 401 N Hwy A1A, Jupiter, FL 33477
Phone: (561) 746-6654
Website: http://www.jupiterdunesgolf.com/
Jupiter Inlet Lighthouse and Museum
The historic lighthouse at Jupiter Inlet offers year-round guided tours of the lighthouse and grounds. The site has an interesting military history, and the surrounding land is natural and restored wetlands habitat with hard trails and boardwalks. The view at the top of the spiral staircase is worth the climb.
Address: 500 Captain Armour's Way, Jupiter, FL 33469
Phone: (561) 747-8380
Website: http://www.jupiterlighthouse.org/
Florida Shark Diving
If you want more adventure in your weekend getaway, try diving with sharks. The Florida Shark Diving company operates year-round and offers both cage diving and freediving with sharks. No experience is needed, and the gear is provided. They also have Shark Viewing Trips for people who are not fond of the idea of diving with sharks but want to see the creatures nevertheless.
Address: 1095 Florida A1A, Jupiter, FL 33477
Phone: (305) 395-9140
Website: http://floridasharkdiving.com/
U-Tiki Beach Waterfront Restaurant
It's not a real vacation until you've eaten some fine cuisine. Jupiter has several fine dining restaurants, and we encourage you to eat well every day of your staycation. We recommend the U-Tiki Beach Waterfront Restaurant. The view, especially on a clear night, is beautiful. The food and service are both excellent. The only downside is that they don't take reservations, so go early.
Address: 1095 N Hwy A1A, Jupiter, FL 33477
Phone: (561) 406-2210
Website: https://www.utikibeach.com/
Maltz Jupiter Theatre
Originally founded by Burt Reynolds, the Maltz Theatre was renovated in 2004 a result of a community-wide movement. It's now a not-for-profit regional theater that hosts concerts and plays. Some plays performed at the Maltz include The Glass Menagerie, Rhinoceros, and Hamlet. They also have musicals like Hairspray and South Pacific. The theater has excellent acoustics and a friendly volunteer staff.
Address: 1001 E Indiantown Rd, Jupiter, FL 334771001 East Indiantown Rd.
Phone: (561) 575-2223
Website: http://www.jupitertheatre.org/
Sometimes staying in town and enjoying local tourism is all we need to relax and rejuvenate. It's cheaper, and you don't have to deal with the process of packing a heavy suitcase. Just throw in a few things in your backpack or duffel bag, and you're off to go.