If you were to talk about food with members of our community in Jupiter, Florida, you would probably learn that, since we enjoy a tasty meal, we are regulars at restaurants that serve the best dishes. If you're starved after paddling or swimming, want to grab a quick meal after a long beach walk or plan on taking your family out to dinner, you should know that Jupiter, Florida offers a fantastic selection of restaurants for all palates and wallet sizes.
Looking for mouth-watering, tasty food? Go for the All-American classic: the hamburger. Still being the most popular meal option in the United States, the hamburger mixes juicy beef, soft, steamy buns, gooey cheeses, and a wide array of zesty toppings. Throw in a cold glass of beer or wine and a basket of hot, salty french fries, and you've got yourself a satisfying meal.
If you want to try out some of the best burgers in Jupiter, Florida, look no further than the following list of restaurants. You will not be disappointed.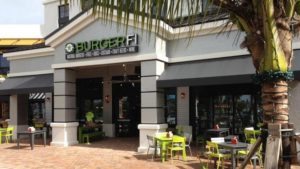 BURGERFI
BURGERFI offers juicy and overloaded portions of fast but healthy food and high-quality client service. The burger recipes use grass-fed beef, coming from cows that are raised in large ranches in the mountains. In Spring, when the calves are born, they usually eat milk from their mothers. When they become old enough, they are allowed to roam free and eat grass.
If you want a full menu, you can also add hand-cut french fries, hot dogs, frozen custard and onion rings. The restaurant also offers an unbeatable selection of craft beers and wines. Stop by and try out The CEO burger, the oversized, all-natural, black Angus burger customers usually go for. The CEO inspired BURGERFI and it mixes refined ingredients like tomato confit, sweet onion, bacon, arugula, Maytag blue cheese and Gruyere cheese.
Try it out. Ordering has become a lot easier now since BURGERFI recently introduced self service order computers to make the process faster and easier for everybody.
Address: Harbourside Place, 147 Soundings Avenue, 33477
Phone: (561) 203- 7438
Website: http://burgerfi.com/
The Burger Shack at Lighthouse Cove
If you use to play mini-golf with your family at the Lighthouse Cove, don't miss out on the burgers from The Burger Shack. The menu includes a wide range of burger offers, from the zesty, barbecue covered Kowabunga burger to the vegetable-packed Cali burger. If these options are not for you, you can build-your-own burger with a list of ingredients you can choose from.
We can all agree on something. The starting point for any great burger is high-quality beef. The Burger Shack only uses premium beef from the Creekstone Farms. The meat is hormone and antibiotic free, and 100% grass-fed. This translates into a tasty and healthy burger that is superior to others. Healthy and happy meat makes better patties!
Not a burger fan? You can also go for hot-dogs. The Burger Shack may be known as a burger restaurant, but their hot-dogs are just as good as their burgers.
 Address: 617 N A1A, 33477
 Phone: (561) 203-7965
 Website: http://www.lighthousecoveminigolf.com/jupiter/burger-shack/index.cfm
Cheeseburgers and More
If you're looking for a family place in Jupiter, Florida, look no further than Cheeseburgers and More. If you want to eat some great burgers, watch sports on TV and enjoy some drinks while your child has fun in an indoor play area, this is the place to go. Your child will love all of the fun games and activities he can play in the 7000 square foot dedicated space. He may never actually want to leave.
Adults have a full bar to choose from, large TVs and quality food, from chicken wings to jalapeno poppers, the classic sports bar favorites. Cheeseburgers and More is known for its oversized, juicy burgers, and if you're feeling lucky and courageous, you can take the one pound or two pound challenge. This means your photo will appear on the "Wall of Fame" if you manage to eat a 1 lb. or 2 lb. hamburger.
Address: 6779 W. Indiantown Road, 33458
Phone: (561) 575-9490
Website: http://www.cheeseburgersandmore.com/
The Cooper
If you are looking for a more cosy place and an intimate dining experience, The Cooper is in a league of its own. Customers will enjoy an elegant environment and carefully prepared foods. The Cooper might seem a bit pricy, but its high-quality services and meals are worth the money. The ingredients, meat, vegetables and drinks are usually sourced from local farmers and small-batch distilleries.
A bit of a drive away all the way to Palm Beach Gardens, The Cooper is worth the ride. Go for the Cooper Burger, a mouth-watering 8 oz. butcher's blend with lettuce, tomato, aged Vermont cheddar, and a "secret sauce" on a griddled challah bun. It is simple, elegant, and hands down one of the best hamburgers in Jupiter, Florida.
Address: PGA Commons, 4610 PGA Boulevard, Suite 100, Palm Beach Gardens, FL 33418
 Phone: (561) 622-0032
Website: http://www.thecooperrestaurant.com/
We only listed a few of the top burger joints in Jupiter, Florida, but it is by no means exhaustive. Sometimes, you just have to get out there and discover something unique and amazing yourself. Go out and don't miss out on the ultimate burger experience.